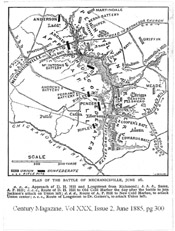 click on image for larger view
Battle of Mechanicsville
---
On information that Confederate forces under the command of General
Thomas "Stonewall" Jackson were approaching, the First brigade, under the
command of Lt. Colonel R. C. Buchanan, was sent on reconnaissance in the
direction of Hanover Court-House, as far as Topopotomy Creek, returning
about 7 a.m. on June 26th. Outposts were placed, on the 25th, to observe
the bridge crossings on the Chickahominy river at Meadow Bridge and
Mechanicsville. The Chickahominy, in the area of the troops, was waist deep
and surrounded by swamps, making it difficult to cross anywhere other than
one of the bridges.
Supporting forces were posted on the east side of Meadow, or Beaver Creek,
which joins the Chickahominy about a mile east of Mechanicsville. These
supporting forces consisted of two brigades of the Pennsylvania Reserves.
The remainder of Meade's brigade, McCall's division, Morell's division, and
Sykes' division were held in reserve on Gains Farm. Enemy forces started
to cross the previously named bridges on the 26th. Observing federal troops
fell back, after destroying the bridges, to a selected line of battle on the eastern crest of Beaver Creek. Brigades
commanded by Meade, Martindale, and Griffin (under Morell's division) were advanced in support. From earth-
works Union troops were able to prevent Confederate advancement. Confederate forces took up positions and
commenced to fire by musketry and artillery upon Union positions. The Confederate fire ceased about 9 p.m.
About 4 p.m. the Fourth US, having returned from their reconnaissance, were ordered to advance towards
Mechanicsville, in support of McCall's division, but were later ordered to bivouac, in order of battle, after moving
only about half a mile.