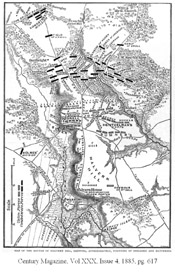 click on image for larger view
The Battle of Malvern Hill
---
Rebel forces sporadically attacked the Union positions throughout the day but
were repulsed on all fronts. Finally, in the early evening of July 1st, Confederate
troops attacked, in force. The First Brigade was brought into action with the 4th
and 3rd Regiments pushing through a ravine and woods on the right of the 2nd
Division, advancing with General Butterfield's Brigade.
Heavily pressed on his right (Couch's Division), Porter requested an extra two
brigades from Brigadier General E. V. Sumner (Second Corps, held in reserve).
With General Sumner was 3rd Corps commander Brigadier General S. P.
Heintzelman. General Sumner was at first hesitant to send aid but General
Heintzelman is said to have exclaimed, "By Jove!, if Porter asks for help I know
he needs it, and I will send it." At that, General Sumner sent in Meagher's Irish
Brigade to assist and General Heintzelman sent Sickles' Brigade.
About dusk Union artillery, less than two hundred yards to the rear fired two
rounds of canister killing and wounding several men. Fortunately the Regiment
was, at the time, laying down, else the loss would have been more severe. By
9 p.m. the Battle of Malvern Hill had ended in the complete repulse of all
Rebel assaults.
About 2 a.m. the Brigade was pulled back further and at about 3 a.m. was designated rear guard as the remainder
of the army was falling back across Turkey Creek Bridge. The Brigade remained as the rear guard until about 5 a.m.
when it was further pulled back. The Brigade finally pulled back across the river at 7 a.m. and joined the remainder
of the army in camp near Harrison's Landing. During the seven days' battle the Regiment was without camp or
garrison equipage and, comparatively, with little to eat.