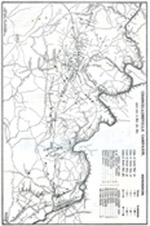 click on image for larger view
The Battle of Chancellorsville
On April 30th the Regiment made a reconnaissance to United States Ford,
on the Rappahannock and later returned to their bivouac near Chancellorsville.
On May 1st, the Regiment engaged and skirmished with Confederate troops
until 3 p.m. Moving along the Fredericksburg pike, the Brigade encountered
the enemy and formed a line of battle at the double quick.  After pushing
enemy pickets back 1 ˝ to 2 miles, the command (Second Division) found
themselves in front of heavy forest and in range of breastworks on their left.
Out flanked and faced with two divisions of Confederates (commanded by
Confederate Generals Anderson and McLaw), General Sykes ordered the 1st
Brigade (including the 4th U. S.), commanded by Brigadier General Ayres, to
the left to protect that flank. Exposed, the Brigade advanced to the bottom of
a hill, to a fence along a small stream. After several hours of fighting General
Sykes' division was ordered to withdraw. Covered by skirmishers the brigades
retired, in line of battle, to a point where they were joined by Hancock's
division (Second Corps), under the command of General Couch. Soon
afterwards, both divisions were ordered to withdraw, doing so in line of battle.
After the enemy appeared on the Plank road the Regiment redeployed in line of battle and remained all
night; resting on arms. Loss to the Regiment on May 1st was 1 killed and 1 wounded.
Early on May 2nd (1 a.m.), the Regiment moved about 2 ˝ miles to a new camp on the Mineral Springs
road, leading to Scott's Mills, and there they cut an abates. At about 5 p.m., the Eleventh Corps being
under attack (by Jackson), and its right flank breaking in confusion, the Fourth U. S. moved, at the
double quick, and took up positions across the road and facing Ely's Ford, covering the approach to
Chancellorsville. Here they once again spent a night in line of battle. On May 3rd, the Regiment along
with the Brigade moved further down the pike, taking up a position parallel with the pike, with the First
Corps to their right. Here they built a strong abates and a breastwork of earth and logs was constructed.
The Regiment remained entrenched until the night of May 5th, at which time they had picket duty. Early
on the 6th of May it was withdrawn, crossing the Rappahannock at United States Ford and marching
16 miles back to their old campsite near Falmouth.